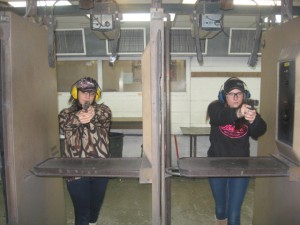 The Outdoorsman has the premier indoor gun range in the far N.E. Illinois. Any handgun caliber weapon may be used. No shotguns please. Our range has 8 points and is 25 yards.
Sharpen your skills with our private firearm lessons!
Call us for more information at (847) 746-1331.
Our range is open to the public Monday – Friday: 10am to 7pm, Saturday: 10am to 5pm, and Sunday 12pm to 5pm, on a first come basis.  If you love savings, ask about our membership program.  For details, call us at (847) 746-1331 during regular business hours.
Don't have a gun? No problem! Rent one of ours for a small fee. Don't have eye and ear protection? We have those for rent too. We have a large selection of ammunition and targets available.
Give us a call at (847) 746-1331 for more information.
Here are just a few targets we have available.
Click to Enlarge